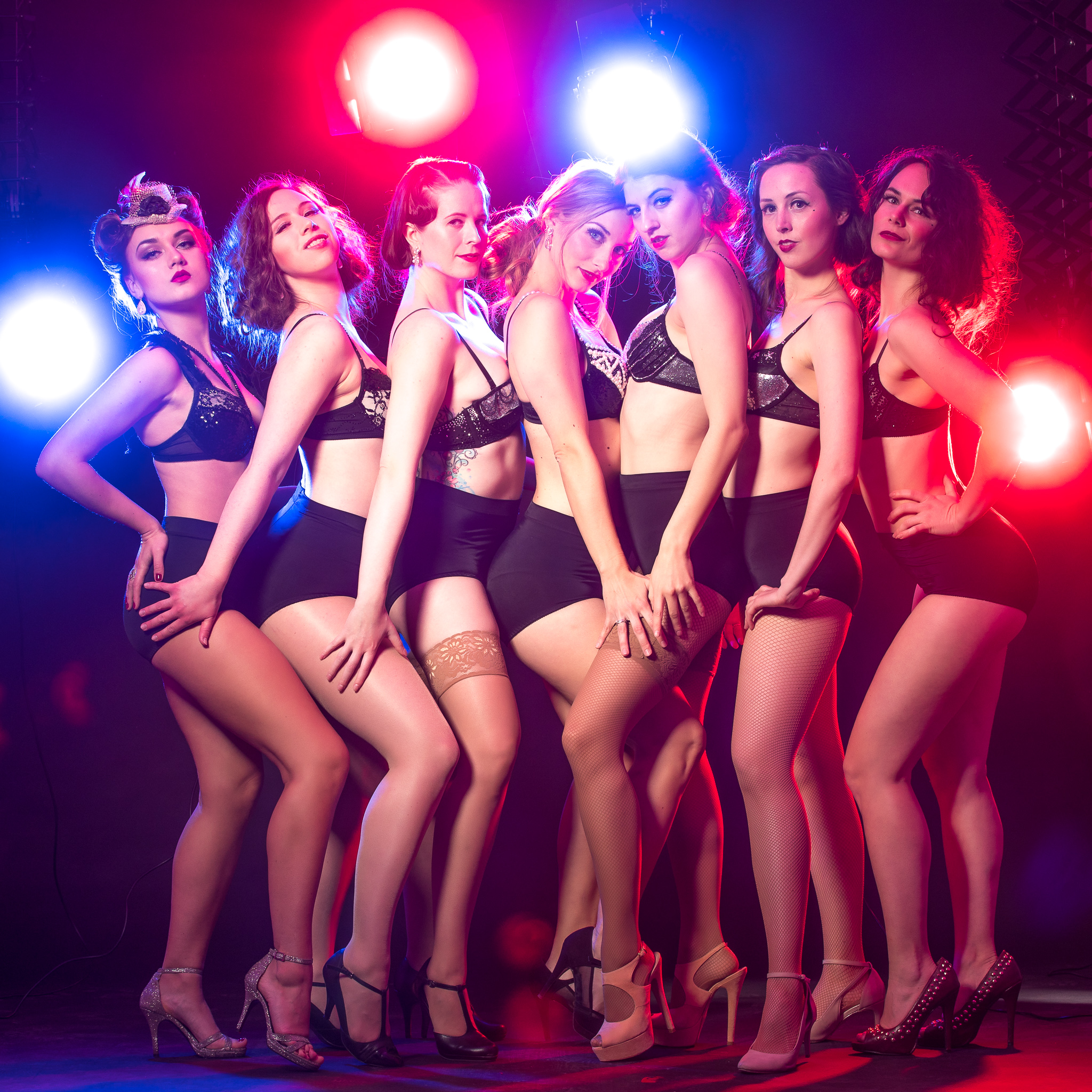 WITNESS A GLAMOROUS, SEXY AND HUMORISTIC SHOW.
IT WILL KNOCK YOUR FEET OFF, MAKE YOUR JAW DROP AND GET YOUR PARTY STARTED.
The passion and the drive from the Sweet Burlesque dancers will give the audience a magnificent feeling and experience of being set back to the 1920's. We mix the old-fashion style with a modern twist and gives you a show you soon won't forget.
The Sweet Burlesque Show team has 10 beautiful burlesque dancers and is founded and created by the talented choreographer AK. The group has done more than 200 shows and is Copenhagen's only professional Burlesque group.
The girls of Sweet Burlesque will dazzle you with their smiles, tease and magnificent costumes. Haven't seen a show yet? NO WORRIES! We are here to show you. Sweet Burlesque perform a 15 minutes show and each performance is one of a kind; perfect for companies, festivals, social events, venues etc. Check out our Calendar to see where we perform next! Enjoy our show with a cocktail, bring your friends - maybe even your mom - we promise she will love it!

If you want more information about price or a tailored show contact us using below form!
Book a show for your event!
+ Showgirls show
Sweet Burlesque Showgirl performance is one of a kind – a real dime!
This show oozes of elegancy, femininity and Las Vegas vibes. Get ready to experience the girls' tasteful, yet sensual dance moves and dazzling costumes filled to the breaking point with feathers and rhinestones.
The Showgirls show is the perfect show for you who want to up your event with a pinch of extravagancy!
+ GREAT GATSBY SHOW
Experience our popular 1920's Great Gatsby show with flapper dresses, 'whoo girls' and escalating energy! Just the show to make your party an ecstatic success!
Our Great Gatsby show is festive, joyous but yet sober and will take your guests back to the roaring twenties, where everything was just a little bit wilder!
This show contains lots of humor, sensual movements and energy, therefore this show is perfect to set fire on the dance floor at any party.
+ BURLESQUE SHOW
Our all-time classic Burlesque Show is a real treat for your guests! The Show is energetic, humorous and sexy! Yet, with high class and finesse. Our Burlesque performances always consist of a group of dancers and is never about nudity – although we might lose our gloves, skirts or stockings…
+ HALLOWEEN SHOW
Be prepared for a spookylicious show, with dramatic music, deadly costumes and a twist of sexiness.
It is a haunted world of delicious dames and acrobatic nightmares. No one is safe as our dancing creatures slither through the audience.
Do you dare?
+ MOULIN ROUGE SHOW
Enjoy the sumptuous Parisian cabaret feeling with our spectacular Moulin Rouge show.
The energy and mixed dance styles during this extraordinary show, will be of the highest standard and let the dancers shine, with their amazing dance skills and performance art.
A glamourous show with effervescent dancers in dreamy costumes.
+ ROCK N ROLL SHOW
Our Rock n' Roll show is a real party starter. With wild and wet rock bitches with a special powerful rock n' roll attitude that will blow your mind. The show's wildness combined with female sensuality is a real crowd pleaser, with acrobatic pole moves and cool rock n' roll moves!
Sweet Burlesque's rock n' roll performance at the Copenhell festival, was highly praised both by the audience but also by the massive press corp present.
Rock n' Roll is here to stay, so let's have a party together!
+ CUSTOMIZED SHOW
We are more than happy to hear your ideas and whishes for your dream show. Just write us and email or call us and we will be delighted to plan something special for your event.
Sweet Burlesque & Live band JaZZ-FIVE
We have together with our dear friends from Jazz Five created a brand new and unique form of entertainment, that offers evocative New Orleans jazz music mixed with a modern Burlesque Show. This is a first class entertainment that gives a colorful, seductive, exciting and a good laugh to your next event.
Let the New Orleans Burlesque take you through a time travel into a common universe of Satire, Jazz, upbeat and harmony. Feel the presence and passion from the two groups while getting an untameble desire for dancing and be a part of this magnificent and catchy show. Experience a five man band with sax, pianos, drums while looking at smoking hot Burlesque dancers adoring the dance floor during the festive New Orleans tones. Book us for you next party! Contact us for more information.
.
Are we your next event for your big venue or company party? Send us your request and book a show you won't forget.
NORTHSIDE FESTIVAL 2017, 2018 & 2019
BURLESQUE IDOL UK 2016
NØRREBRO THEATRE
BREMEN THEATRE
SKUESPILLERHUSET
COPENHELL 2019
COPENHAGEN GROTESQUE BURLESQUE
DIGNITY CHARITYSHOW
CARLSBERG
PWC
SCAN-GROUP
PENTHOUSE
ÅF - HANSEN OG HENNEBERG